Nitinn R Miranni and Aartie Miranni (Alter Ego Entertainment) hosted an exclusive special screening of their upcoming short film, "The Elephant In The Room," at the prestigious Sunny Super Sound venue in Juhu. The event was a glamorous affair, graced by a constellation of renowned celebrities, and marked an unforgettable night.
"The Elephant In The Room" is a captivating short film featuring a talented ensemble cast, including Daisy Shah, Viraf Patell, Nitinn R Miranni, Salonie Patel, Pratiksha Sen, Akanksha Pandey, and Sankalp Joshi. Directed by the visionary Krishan Hooda, the film boasts a compelling storyline with dialogue and screenplay penned by Neeltarni Pratap.
Adding a unique touch to the film, Mantra lent his voice to the character of Ganesha, creating an immersive and engaging experience for the audience.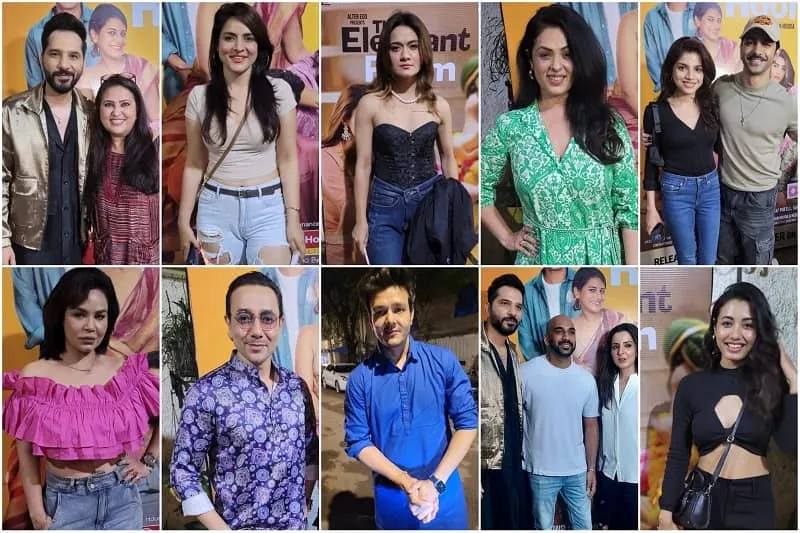 The star-studded evening saw an impressive turnout of celebrities who came to show their support for the film. Notable attendees included Daisy Shah, Nitinn R Miranni, Aartie Miranni, Shiv Thakare, Sunil Grover , Sheezan Khan, Rashami Desai, Abhishek Bajaj, Nilu Kohli, Shivin Narang, Farnaz Shetty, Mantra, Sankalp Joshi, Akanksha Pandey, Aradhana Sharma, Surabhi Das, Sahil Khattar, Raavee Gupta, Riddhiema Tiwari, Jaskiran Singh, Abhishek Khan, Simple Kaul, Hrishikesh Pandey, Anu Agarwal, Mitaali Nag, Taha Shah, Krishan Hooda, Neeltarni Pratap, Manoj Bidwai, Anjana Sukhani among many others.
Nitinn R. Miranni expressed his excitement about the event, saying, "We are thrilled to have such a fantastic turnout for the screening of 'The Elephant In The Room.' It's a testament to the hard work and dedication of our entire team. Viraf and Salonie and our co-producer Prakash Moolani couldn't make it and we are really missing them but they all sent us those blessings. We also want to say a big thank you to our sponsors PNB Housing Finance and Bright Outdoor for believing in our Vision."
Adding to it Aartie Miranni expresses, "This film has been a labor of love, and we are proud to share it with the world. We are overwhelmed by the incredible turnout tonight and the support we have received from the film industry. It's a proud moment for our team."
In addition to the cinematic experience, guests were treated to a delightful array of snacks and refreshments, enhancing the overall enjoyment of the evening. "The Elephant In The Room" promises to be a must-watch for cinema enthusiasts. The short film will stream on Humaramovie YouTube Channel from 19th September. It is directed by Krishan Hooda, Presented by Alter Ego Entertainment, produced by Aartie Miranni & Prakash Moolani and Dialogue and Screenplay is by Neeltarni Pratap. Mantra has given the voice of Ganesha. The Elephant In The Room star cast includes Daisy Shah, Viraf Patell, Nitinn R Miranni, Salonie Patel, Pratiksha Sen, Akanksha Pandey and Sankalp Joshi.