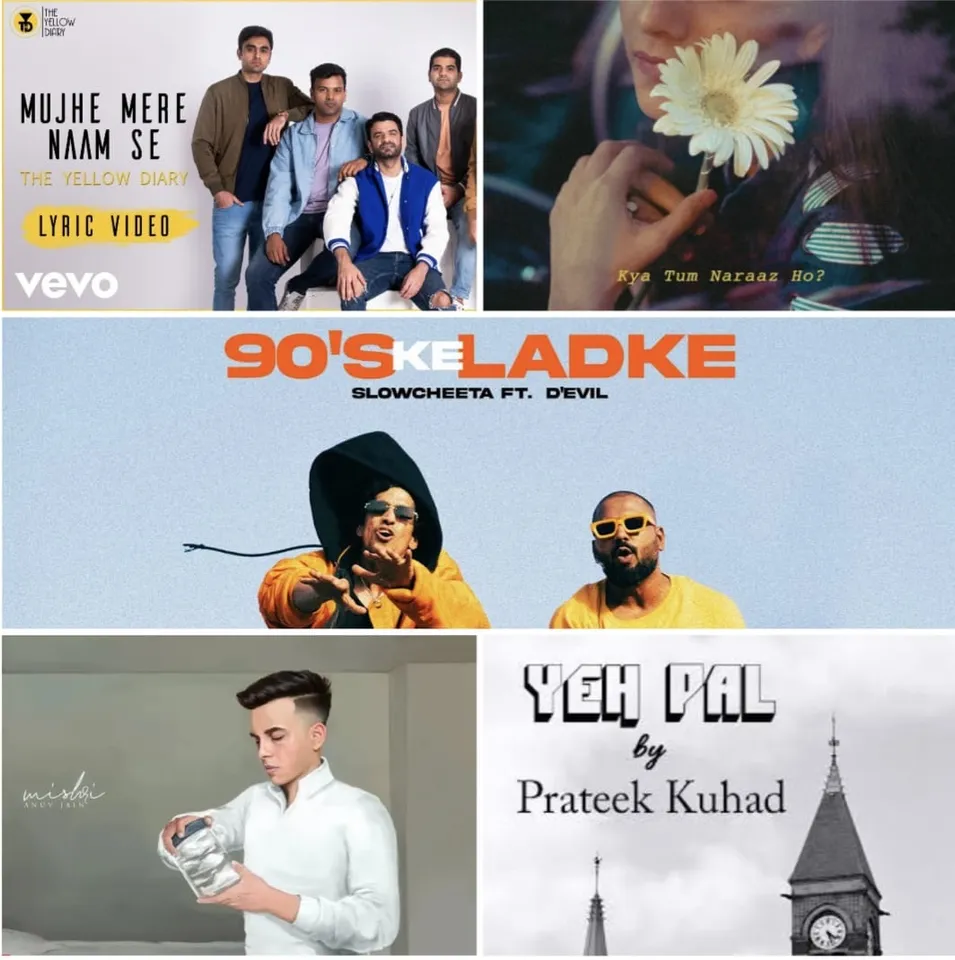 From mellow beats to intense raps, our picks for the finest music you can uncover by June 21
Just in case you need to refresh your playlist as you celebrate World Music Day, we pick for you some songs that represent the best of the contemporary music scene in India.
90's ke Ladke- SlowCheeta Ft D'Evil

Actor, lyricist, and rapper Chaitnya Sharma aka, SlowCheeta, has just dropped his latest rap single '90s ke Ladke,' featuring the immensely versatile rapper D'Evil (Dhaval Parab). The fun collaboration is produced by Ink Heart and crackles with the boundless energy that SlowCheeta and D'Evil are known for. Their sarcastic bars recall their journey as 90's boys who have come through many challenges to succeed.  Be it   'Wannabe Rapper' or  '90's ke Ladke,' SlowCheeta has always used the raw material of personal experiences to pen his punchlines. However he continues to prove his versatility with this song which may not have gut-wrenching lyrics but  captures the essence of old-school life and D'Evil's powerful take is the cherry on top. This has to be one of the finest collaborations of Hip-Hop Rap and plays on the themes of growing up and owning your truth through  hard-hitting verses by the artists. Add this to your playlist if you're a 90's girl/guy (or not) and want to cherish the good old days. It's available on Youtube and all streaming platforms.

Mujhe Tere Naam Se- The Yellow Diary
This song is as unique as the Indie Alt-Rock Band of five boys who quit their jobs to immerse themselves in music and are referred to by fans as the Indian Linkin Park. Be it their rendition of Ustad Nusrat Fateh Ali Khan's 'Tere Jeya Hor Disda', or the  wistful ode to lost love 'Marz' or 'Kashmir' or 'Roz  Roz', Yellow Diary's distinct introspective sound has notched  millions of views and countless fans.  Released two years after their smash 'Roz Roz,' which also has a rap version featuring SlowCheeta, their recent song called 'Mujhe Tere Naam Se,' is immensely ear-pleasing. Thematically, the song shares a touching story through its gorgeously animated video on Youtube about a young boy chasing his dreams. If you like meaningful and tuneful music,    this song is definitely for you and may inspire you to find the light to follow your dreams too. Listen to it on Spotify, Apple Music, and Youtube.
Kya Tum Naaraz Ho- Tanmaya Bhatnagar
This  underrated song  was released three years back  by Delhi-based self-taught singer/songwriter  Tanmaya Bhatnagar and remains one of the rawest songs in the indie landscape. Every word  sung in Tanmaya's whisper soft voice and accompanied by unfiltered instrumentation   has the ability to stir your senses and tug at your heart. If this song leaves you wanting more of her magical music,  her songs like 'Kahaani', 'Kyu Hota Hai', and 'Sapne' will keep you hooked to her silky smooth signature sound. She began to rely on music for emotional support when her mother was diagnosed with schizophrenia  and today it is her voice that soothes millions.  You can find her music  on Spotify, Apple Music, Jio Saavn, or Youtube.
Yeh Pal- Prateek Kuhad In 2019, when President Obama named Prateek Kuhad's  'Cold Mess' in his list of songs the year, the world suddenly took notice of the Jaipur born musician who had grown up listening to 'Savage Garden' , The Beautiful South',  'Backstreet Boys', 'Boyzone' , 'Pink Floyd' and 'Nirvana.' Since then he has not only demolished the notion that independent artists who sing in English cannot make it big in India but has also headlined  sold out concerts abroad.  'Yeh Pal' is just one of those songs you can listen to on a loop because of its soft instrumentation, deep lyrics, and evocative vocals. Kuhad has indeed come a long way from the time he was  working as an Economic Consultant  in New York.  Catch his music on Youtube, Spotify, Apple Music, and more.
Mishri- Anuv Jain Nostalgic, melancholy and addictive, like every Anuv Jain's song has been, 'Mishri ' takes you into the depths of heartbreak and longing. The singer, songwriter and composer has already made a name for himself in the music industry with his acoustic sound, soft bass voice , simple instrumentation and  moving lyrics.  His songs are set to simple  guitar chords or  ukulele notes  with any percussion and 'Mishri' is a perfect example of that. Drawing inspiration from his own personal tragedy and the loss of his father when he was 17, Anuv writes from the heart and never fails to evoke an emotional response from his listeners.   'Mishri' is a bitter sweet tribute to his past.  Funfact- this song was written as a word bank for his other song 'Riha' but the audience loved it so much that he had to record it and release it. Find it on Spotify, Apple Music, Youtube, and more.