Anil Sharma - First of all I would like to say that today is Kargil Day, I would like to pay tribute to those martyrs and I want to bow down to their families. Today's trailer is dedicated to him. First of all, I would like to thank Zee because when I went to narrate the story then whole zee okayed the story, and our boss Sunny sir, I often discuss them whenever there is an action scene and do this Yes, there is an action scene in the trailer as well with Hammer Wala, so we all said that it would have been nice to have acted as the biggest hero, but no one could have liked the look of Sunny Sir. When I narrated the story to him, he told me why we are making Gadar 2, then I said sir whole of India wants and this is the emotion of India. When I narrated the story to Sunny Sir, tears welled up in his eyes and he agreed. Then our Sakina ji came, she is getting more and more beautiful. I thank my entire team and my son Utkarsh Ji.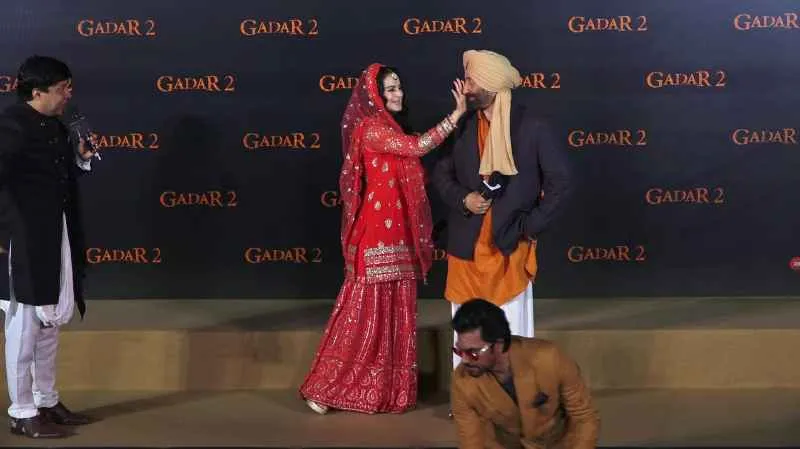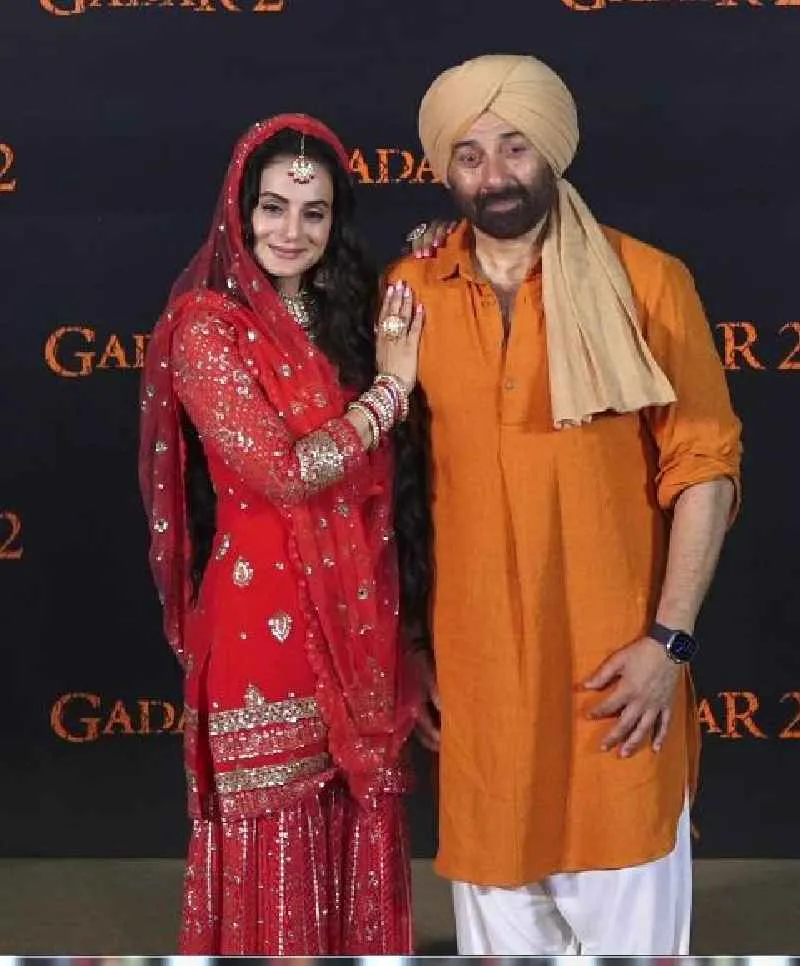 Question to Shariq Patel - After 22 years, how is the head feeling again?
Shariq Patel - Thank you sabka pehle to ki sab itni baarish mein aaye hai, I come to the trailer launch but I see for the first time that full hall is full, yes after 22 years we have come with the second part of the first Gadar Which came in 2001. Gadar was a blockbuster, in the history of cinema and like when Sharma ji told me the story 3 years ago, my emotion came out in 5 minutes, and today the trailer is launched, tell me one thing that the trailer you are watching is The trailer is version 16, but if you want, you can show versions 1-15 as well.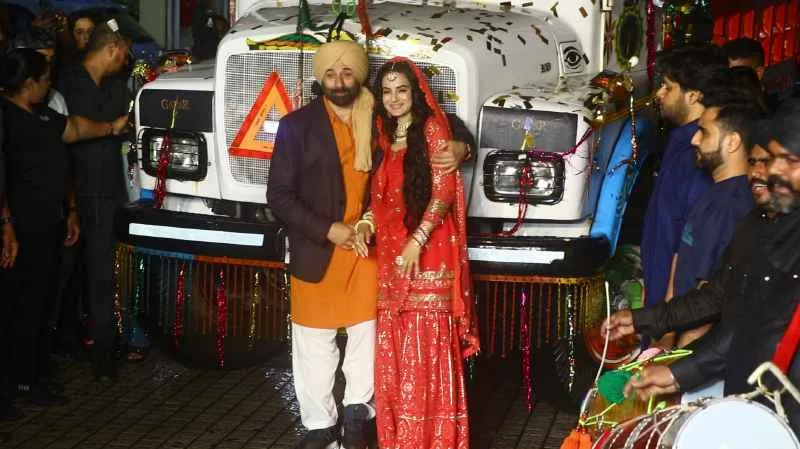 Question to Sunny Deol - As Anil ji told that tears came into your eyes, then tell me the moment when you thought that you will have to do Gadar 2 now?
Answer – See, we had made the film but people made it a mutiny and created such a mutiny that after that it was raised to the sky. There is always a fear that a film which is such a blockbuster film will be teased again, so I was very scared but after the story, I hope it also becomes a Gadar in itself and this will happen only if you guys like the film. Will come, I am sure you guys will like the film. The greatest power is love and there is no greater power than that.
Question to Ameesha - You are still the same as Anil Sharma Ji was telling, so that story was slightly different and this one is also going to be different, what has changed?
Answer - Biggest thanks to my star Sunny Ji, with whom if I am asked to become a plant on stage in school, then I will become that too. When Anil Ji told me the story of the first Gadar, there were big people, everyone said how will you do this role? Everyone told me that I will not be able to play the role of mother, I like challenges very much, but I accepted the challenge and I had faith because I knew that my director is brilliant. Such a beautiful love story was never written nor will it ever be written, I had to say yes, and for 6 months Anil Ji sat with me and made me act like a mother, then now the matter has come that you are 20 years old. How will you play the role of the boy's mother? Then there came the challenge. A very funny incident happened when Gadar 2 was not planned, a casting agent came to our office, he put the picture of a good looking boy in front of me, and my picture with him and said he is the producer and with this boy Want to cast you, I am thinking keeping the picture in my hand, who is this boy, what is his name? He said Utkarsh Sharma, I told him that he is my son.
Question to Anil Sharma - Like when Gadar 2 is releasing, didn't you find it a bit difficult to relate to this generation?
Answer – See time changes but the heart remains the same, man remains the same from the inside, parents remain the same and children also remain the same, emotions remain the same. With time only the dress changes and nothing else, the way of shooting may change but nothing else.
Question to Shariq - tell a little bit about where the film is releasing
Answer - It is releasing on 4000 screens and there is a lot of demand for the movie.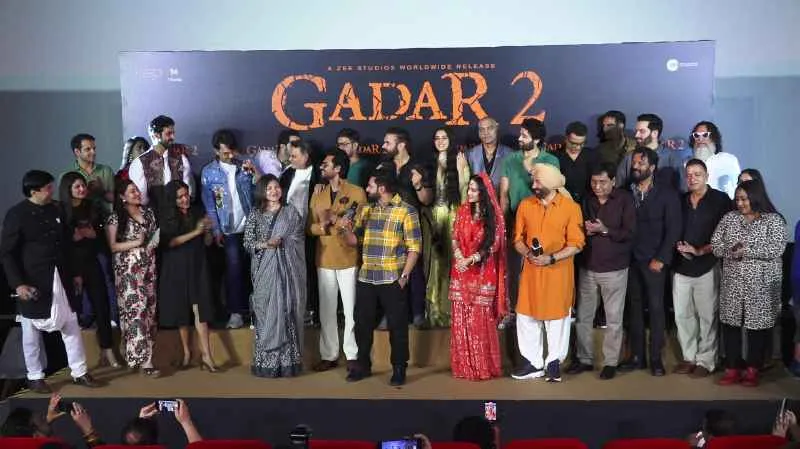 Question from Utkarsh - You have worked with such big actors like Ameesha ji, and Sunny ji, so tell me one thing, they both have on-screen dad and off-screen dad, so how did you feel working with both of them?
Answer - I used to leave the discussions on these two only because from you I have learned to focus on Guruji's script and not on anything else. Working with Sunny sir has been a great learning experience for me because if I explain to you in the language of cricket, then when Sachin Tendulkar is in front of you, then it is okay to play like Rahul David, but Sunny ji makes Rahul David Sehwag too. Sunny Ji used to teach me even off screen and Ameesha ji always used to motivate me. My off-screen father always just keeps saying focus, focus.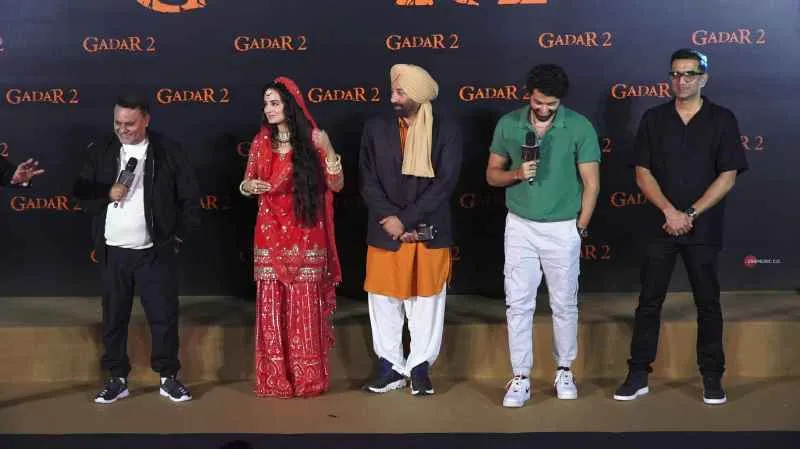 Question to Anil ji - You have introduced so many actresses, tell us about this actress of yours, how did you get where?
Answer - When we were looking for a Pakistani girl for Gadar 2, then there was a big challenge for us, the challenge was that we had shown Sakina in the first film and a girl like Sakina cannot be found in the world, and I poor 400-500 girls kept coming and I was looking for Sakina and I could not find her