Zee TV's Pyaar Ka Pehla Naam Radha Mohan, which is a romantic drama based in modern-day Vrindavan, has been an audience favorite since its launch. With an engaging storyline and relatable characters such as Mohan (Shabir Ahluwalia), Radha (Neeharika Roy), and Damini (Sambhabana Mohanty) the show has kept the viewers on the edge of their seats. In the recent episodes, viewers witnessed that Damini and Kaveri are planning to kill Gungun and to kidnap her from the birthday party. On the other side, Guru Maa is continuously trying to harm Tulsi (Kirti Nagpur).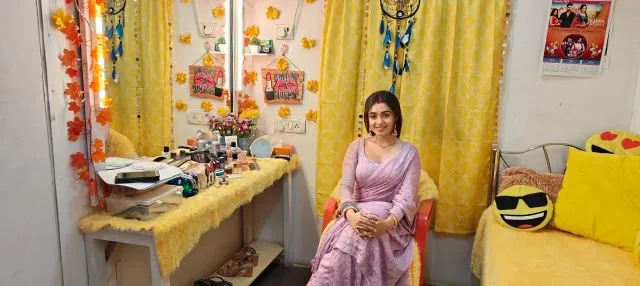 Actors often spend time in their make-up room when not shooting, be it getting ready or preparing for the scene, the make-up room on set becomes their comfort space and second home. To ensure the same, recently, Neeharika Roy has revamped her make-up room into her favorite color 'Yellow'. Yes, you heard that right! From her dressing table to bedsheet, to pillow, to curtains, to shelves, to soft toys, everything in her room looks summery. She has got everything that is essential to make her feel at home while on the set and has personally designed every corner of the room!
Neeharika Roy said, "Makeup rooms are undoubtedly one of the most important elements for every actor on the set of the show.  I love my makeup room ever since I have transformed it and now it feels like a home away from home. A place that makes me comfortable. I have kept a lot of soft toys in my make-up room and have also added a few frames that are all about motivation and beauty to start my day with positivity.  I love the yellow color; hence I have everything yellow in my makeup room. In fact, since my school days I love arts and crafts, hence I have painted a few glass bottles in the same color and kept them in my room. I spend a lot of time in my make-up room as I practice my lines and scenes there. Hence, I decided to transform it into my own comfortable space."
While Neeharika has certainly turned into a decorator for her make-up room and is enjoying her new space, it will be interesting for the viewers to witness how Radha and Mohan will save Gungun. Will Mohan get to know that it was Damini who got Gungun Kidnapped?
To know what happens next, watch Pyaar Ka Pehla Naam Radha Mohan every day at 8 pm, only on Zee TV!
Read Also: