"FASAL Is All About Celebrating The Strength Of A Women Through Her Resilience, Determination And Unwavering Spirit", says Sehnoor on the official POSTER launch of her web series
In a groundbreaking event that has sent waves of excitement through the entertainment industry, Team FASAL officially launched the poster of their highly anticipated web series. Sehnoor and her team have officially announced the commencement of the most anticipated web series – Fasal -- at the poster launch event that generated significant buzz. The team behind the series is now set to bring their vision to life on the digital screen.
The poster itself speaks volumes about the underlying theme of the web series, championing women's empowerment and resilience. The portrayal of a woman holding a gun, an emblem of power and protection, symbolizes her readiness to take charge of her own destiny and fight against any injustice that comes her way. The injuries on her face suggest a turbulent journey she has undertaken, highlighting the hurdles she has overcome to emerge stronger. The use of dark and gritty visuals promises a realistic portrayal of the challenges faced by the girl.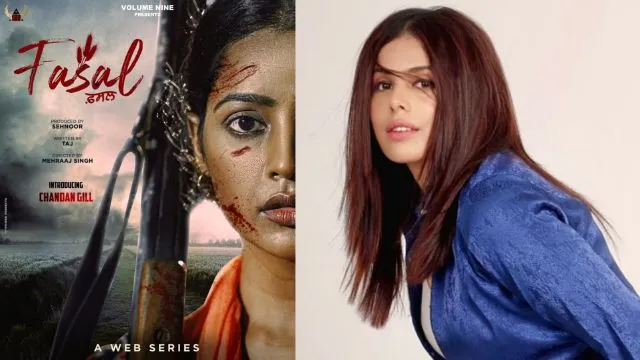 Talking about the poster Sehnoor says, "The official poster of my upcoming webseries FASAL is released, The character lead which is played by Chandan Gill, is doing a fantastic job. The poster is something that will leave the audience in wonders that what is it actually about but it is something that will leave the audience with a heavy heart and with an inspiring message"
"FASAL masterfully portrays the resilience, determination, and unwavering spirit of the girl as she navigates the challenges and dangers that lie ahead. It's going to be a series that will celebrate the strength of women. I am very driven towards this as the project is on floors and soon will be heading to post-production. My team has put their immense dedication into this and we can't wait to bring it to the audience soon." exclaims Sehnoor.
While the release date is yet to be unveiled, the poster has built anticipation for this remarkable production. Written by the talented Taj and directed by Mehraaj Singh. "Fasal" boasts an exceptional cast, including Shweta Sharma and Divjot Kaur, who also portrays strong female characters. Adding further depth and intensity to the storyline, Ashish Duggal is set to deliver a captivating performance as the main antagonist. 'Fasal' is presented under the banner of Volume Nine Films.
Stay tuned for the official release date of "Fasal" and prepare to embark on a captivating journey filled with suspense, drama, and the triumph of the human spirit.
Read Also: