Sampark Foundation, a leading NGO working towards improving learning outcomes in primary education has been actively participating in the two-day national conference on Foundational Literacy and Numeracy - Creating the Base for Lifelong Learning: National Conference on Foundational Literacy and Numeracy (FLN), which is being organized by the Ministry of Education.
The conference has been held as part of the 4th G-20 Education Working Group (EdWG) meeting being organized at Savitribai Phule University, Pune from 17th to 22nd June 2023. Sampark Foundation's participation in the event underscores its commitment to improving foundational skills in literacy and numeracy, crucial for lifelong learning.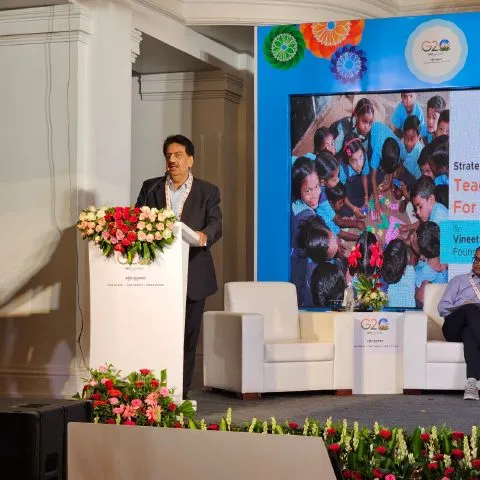 With a focus on promoting Foundational Literacy and Numeracy (FLN) in India, the event has provided an opportunity for experts and stakeholders to collaborate and discuss crucial aspects of educational development. Mr. Vineet Nayar, Founder Chairman of Sampark Foundation, was invited by the Ministry of Education to participate as an expert in the field of education, particularly in the domain of Foundational Literacy and Numeracy.
Speaking at the National Conference, Shri Vineet Nayar, Founder Chairman of Sampark Foundation said, "I am honored to be invited as an expert in the field of education and share my views on Foundational Literacy and Numeracy. The topic is close to our hearts for all of us at Sampark and I look forward to sharing this passion in the discussions during the event with other experts and stakeholders and contributing to the ongoing dialogue on educational development."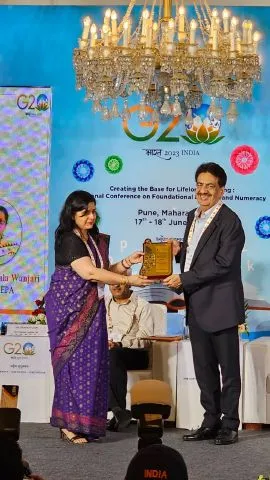 Speaking during the discussions, Shri Vineet said, "To ensure lifelong learning and inclusive access to foundational education it is critical to bring about and discuss the virtues of frugal innovation. It has been our experience at Sampark that frugal innovation along with empowering teachers is a must in making a considerable impact on learning outcomes amongst schools in our government schools.  We urgently need to reskill 1 crore of teachers in our government teachers as they directly impact learning in the classroom. This reskilling should be on the right teaching process, training on using structured resources and measuring of learning and usage of resources in the classroom."
The overall objective of the conference is to reflect on the progress in FLN initiatives with special emphasis on important themes such as Teaching Learning Approaches and Pedagogy for FLN in the context of Multilingualism Capacity building and training of teachers in Blended Mode. The conference is featuring an exhibition showcasing FLN initiatives and digital advancements, which is open for visitors from June 17th to June 22nd, 2023, at the same venue. This exhibition n aims to highlight the innovative approaches and digital solutions that contribute to improving foundational learning.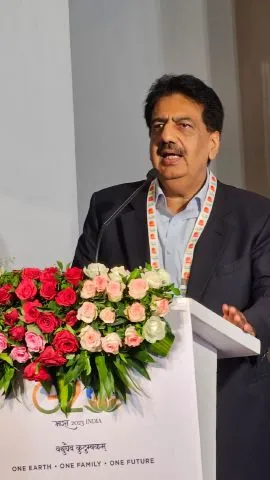 Participants at the event included Principal Secretaries and Secretaries from various states and Union Territories, academicians, teachers, and stakeholders actively involved in the field of Foundational Literacy and Numeracy. Together, they engaged in comprehensive discussions exploring diverse approaches to foundational learning, particularly those aligned with the evolving educational landscape influenced by emerging technologies.
Key themes discussed during the conference centered around identifying and implementing key enablers such as policy frameworks, regulations, and technological advancements to support lifelong learning. The participants emphasized the importance of ensuring inclusivity and universal access to foundational learning for all individuals.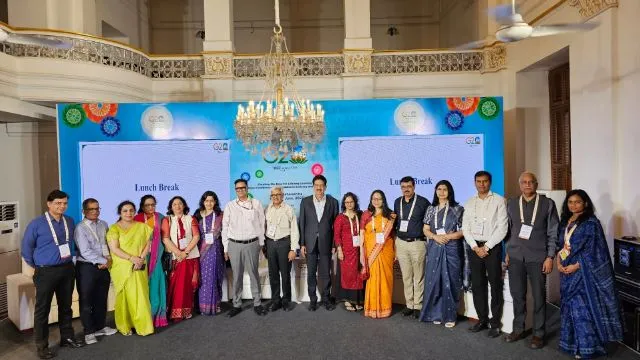 India's National Education Policy (NEP) 2020 accords the highest priority to Foundational Literacy and Numeracy (FLN) i.e. to ensure that all children in the country can read with comprehension and master basic math skills by Grade 3. To put this priority into action, the National FLN Mission launch was announced in December 2020 as a part of Prime Minister's 'AtmaNirbhar Bharat' vision.