Yaariyan 2 trailer launch: The film's actress Divya Khosla Kumar looked very emotional during the trailer launch of the film Yaariyan 2, which is releasing on the screens on October 20
When our journalist asked her about the journey of this film, Divya Ji said that it took 1 year and 6 months to make this film and she is very thankful to her directors Radhika and Vinay ji who gave her the opportunity to make Laadli. Gave a chance to play the character and she hopes that the audience can relate to her and like her character.
This journey was also very long for her personally. She had come to Mumbai city as a teenager, she also thanked her parents who supported her, she came to this city without knowing anyone and then she got her first She got work in the film Tamhare Hawale Watan Saathi and she got married before the release of that film, then she started working as a director and now she has started her acting career again with this film.
This film is very important for him, the character Laadli of this film is based on his life, and his director also agrees with him.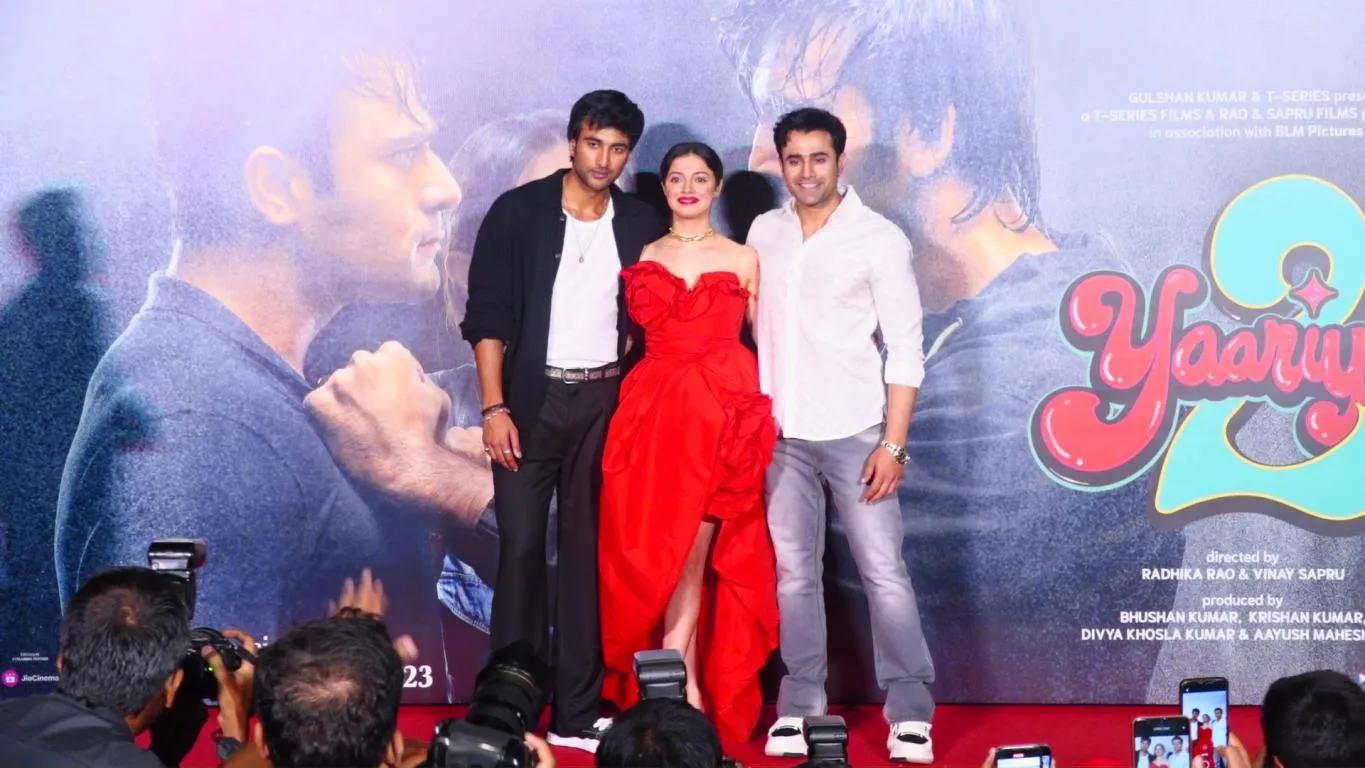 Recalling her old days, Divya said that when she was modeling in Delhi, at the age of just 14, she was approached by Radhika ji and Vinay ji, who is also the director of the film Yaariyan 2, for a music video by Falguni Pathak. Chosen which was his first onscreen work.
Her eyes filled with tears while reliving those memories, Divya ji said that her mother also says that both of them show you in the best way onscreen. Her mother also came on the set of the film and she also said that no one had ever styled her so well and that is why Divya also believes that Radhika and Vini present her in the best way. And he also thanked both the directors for this.
The journalist also asked some light and funny questions to the actors of the film, like he asked Yash among the three actors of the film, who is the most health conscious, to which Yash said that Meezaan (Jaffri) is also very health conscious but This time it depends on what kind of sin one has and eats carbs accordingly.
When he was asked about the emotions of this film, Yash said that during this film, his body language and every movement were tracked by Vinay ji, which helped him a lot and he wants to give full credit to him.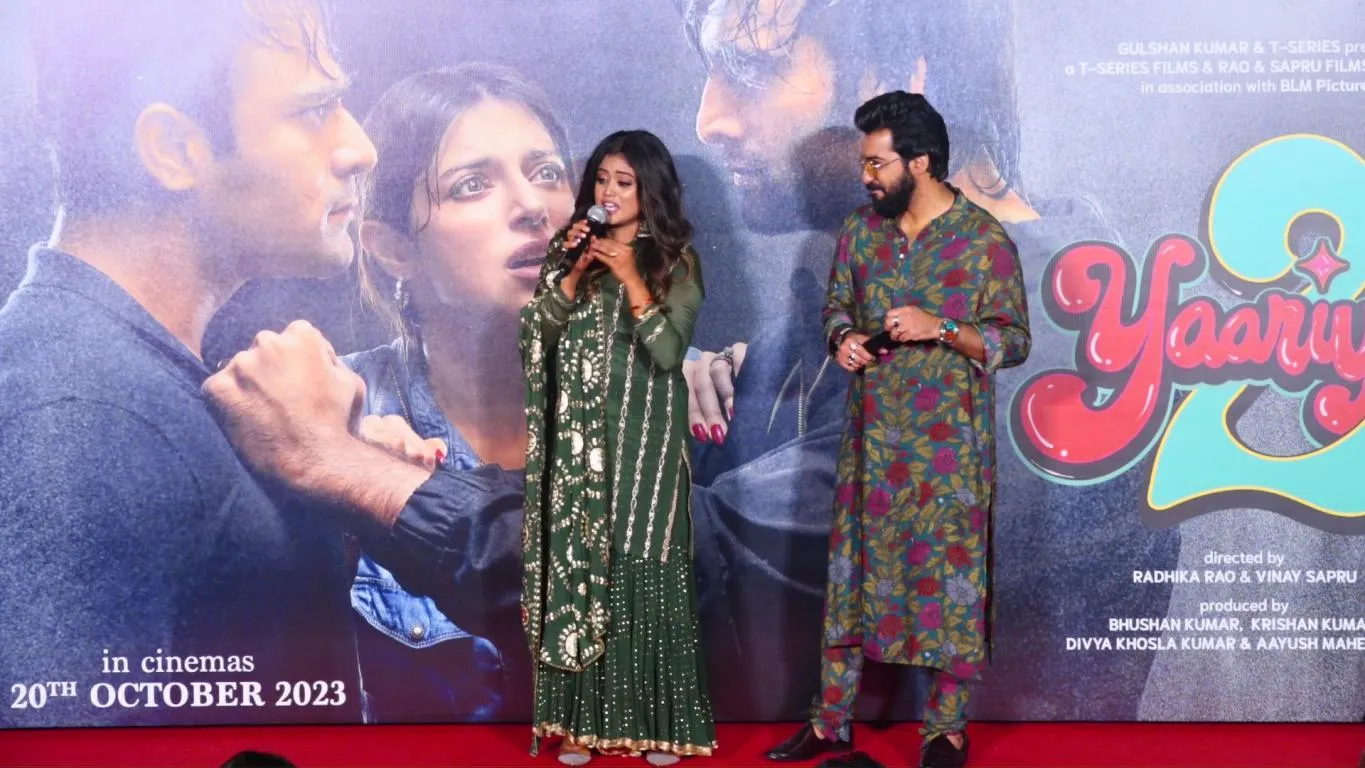 The entire credit of this film was given to the producers of the film who made them work both strictly and lovingly and because of them, it looks quite magical.
The promotional phase of this film has already started, for which the star cast of the film also went to Delhi for the flag hosting of Moto GP. They got a lot of love there and whatever reactions they have received so far have been very good. , Meezaan also said that some unknown people came to him and told him that they liked this song very much, they listen to it with their wife or sister, and people of every age group find themselves in some part of this film. Will be able to add.
It feels good to hear all these things and things, it feels like some good work has been done, in fact just the trailer has come, some songs are yet to come, and all the repeats that have come so far have been very good.
When Pearl was asked about people's reactions to this film, she said that she has received very good responses from all the cities she has visited so far and has received a lot of love. Even after watching the trailer of this film, he is quite nervous but he is also happy.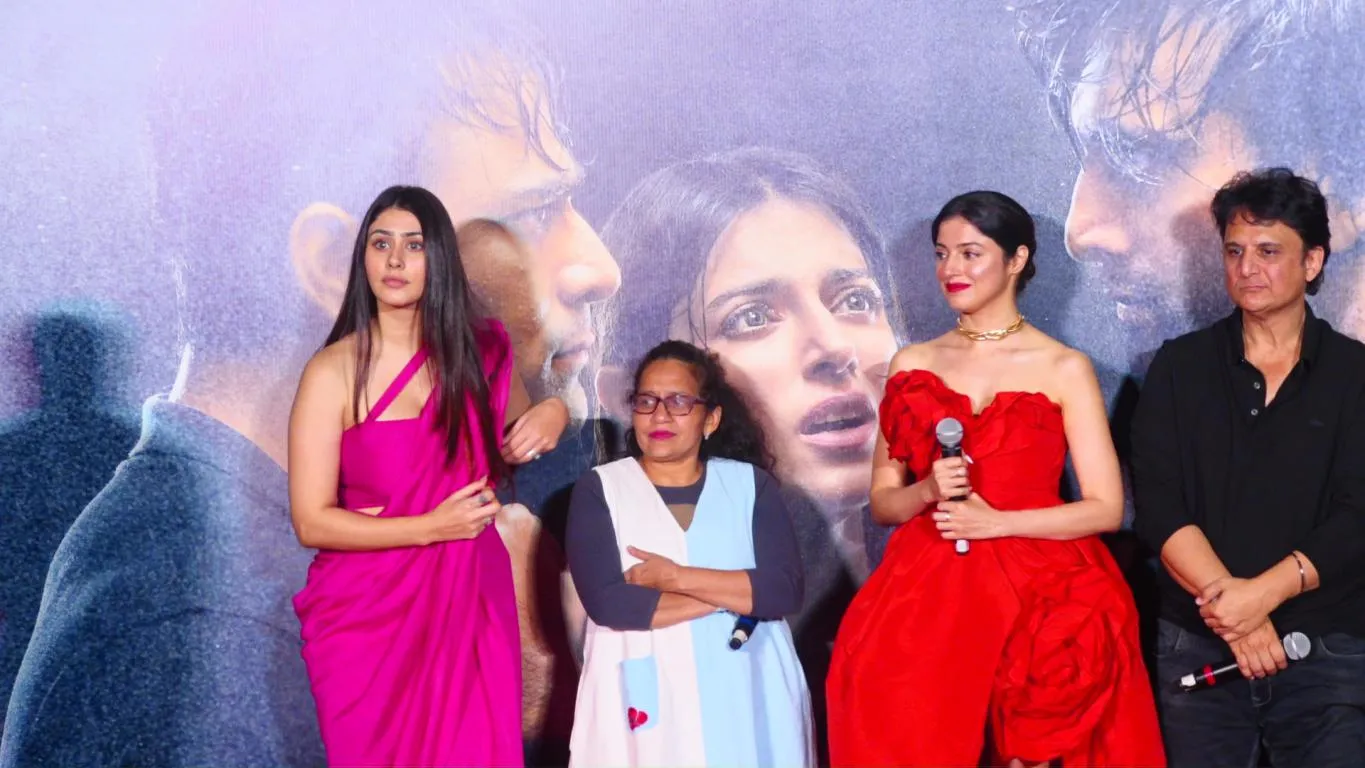 When Warina was asked how she felt working with the other members in this film, to which Warina said that the director of this film is quite amazing, he has attention to detail, it was fun working with him.
When a journalist asks Divya about her style, how do you always remain on point in your fashion game or style statement?
Divya said that she follows minimalist fashion, and she is very slim, so big things do not suit her, she said that she dresses according to her comfort, not due to any fashion or trend. Not according to
When she was asked about her flawless skin and to give some tips on it, Divya smiled and said that her parents and her genes were the reason for it.
When Yaariyan 1, which was Divya's first directorial film, was a huge hit, now when this film is coming after 9 years, did he not think of directing this film himself in these 9 years?
Divya said that she did not find any such script that could give justice to it, but whenever Radhika ji Vinay ji brought this script in which the friendship of cousins is shown, in most of the films only friendship of friends is shown, the friendship of cousins has become a part of the history of Bollywood. I have never been shown on screen, that's why Yaariyan 2 happened.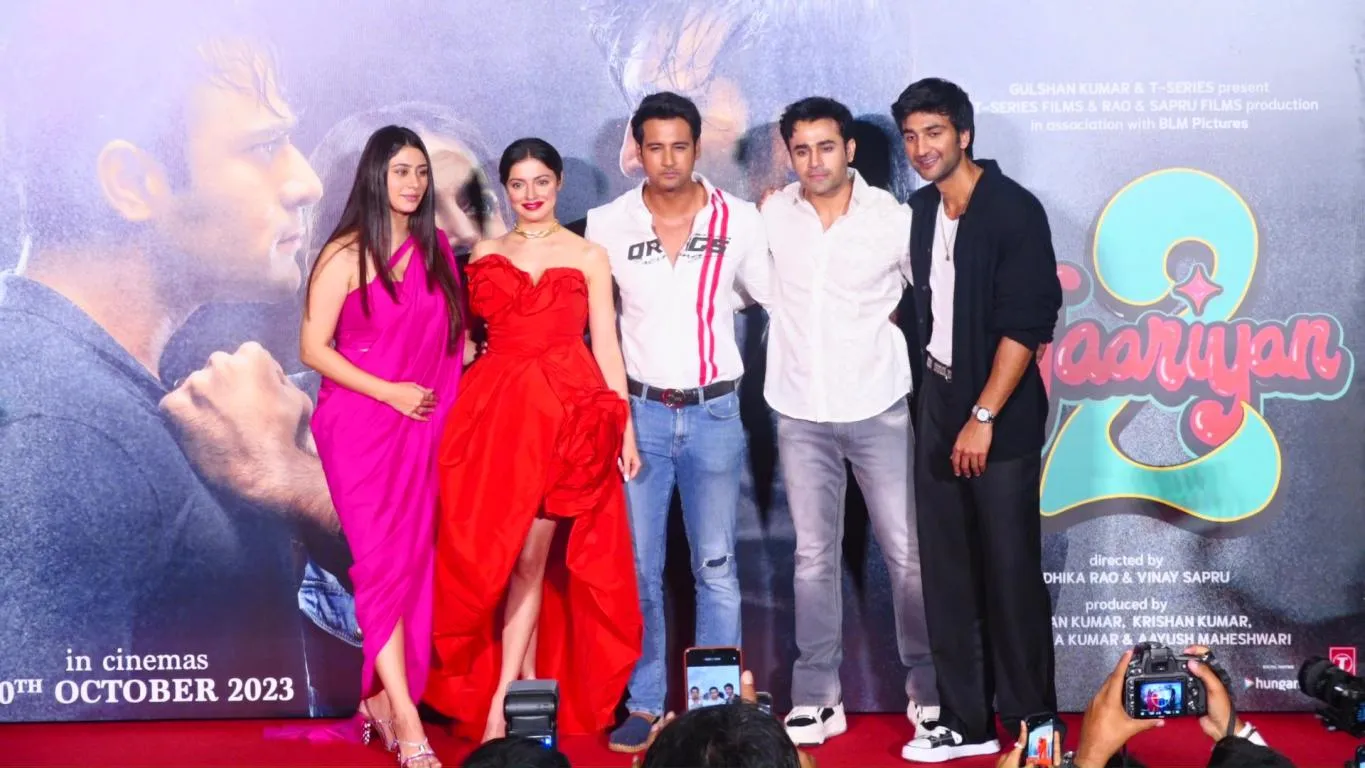 Pearl was also asked about her TV fans, can this film be a gift for her fans?
Pearl said that the amount of love she has received is a gift to her fans. She smiled and said that if she had her way, she would like to personally go home and hug every fan, but she cannot do so. Thanked him and requested him to give all his love to the film also.
Meezaan was asked if this film is about love, friendship, and relationship, and what is his mantra for a healthy relationship.
He said that just be truthful and honest and maintain the relationship with honesty.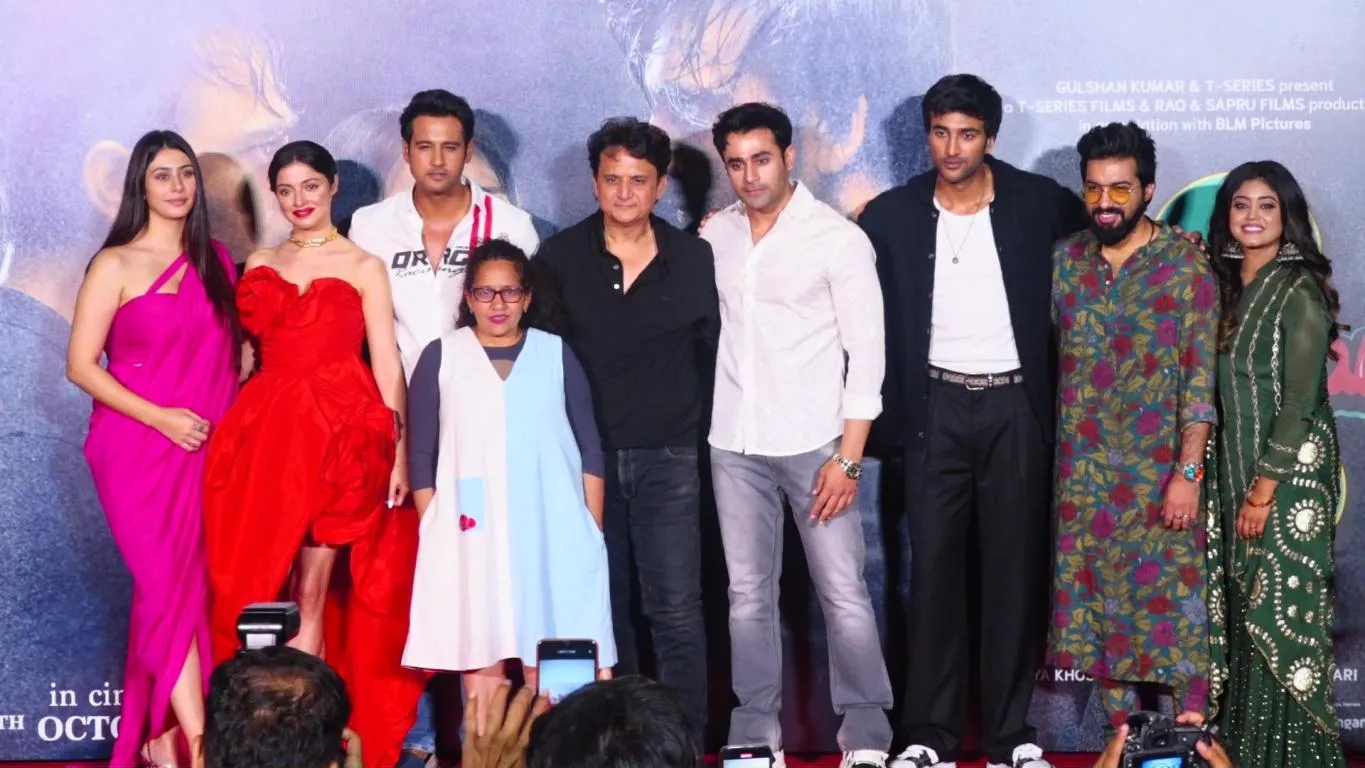 When Meezaan was asked if there was any dream role that he would like to play, he expressed his desire to play a rock star because of his love for music and he would love to play such a role.
This question was asked to all the actors in the film since this film is based on cousin friendship, would they be able to relate it to real life?
Everyone shared some of their childhood stories with their cousins and their belief is that once people watch this film, they will definitely call their cousins.
-Ayushi Sinha