Urvashi Rautela, the Bollywood sensation known for her stunning fashion choices, once again turned heads with her airport attire. The actress was recently spotted at the bustling Mumbai Airport, donning a chic and uber-cool denim-on-denim look that sent fashion enthusiasts into a frenzy
Urvashi was spotted arriving back from her work trip to Mumbai where she was captured in the eyes of the paparazzi. Urvashi as always being a true fashionista did not disappoint her fans and aced once again her airport look. Her ensemble consisted of a denim jacket, jeans with a daring side slit, and a crisp white crisscross sports bra. The fashion-forward diva paired this daring outfit with pristine white sneakers, completing the ensemble with style and panache.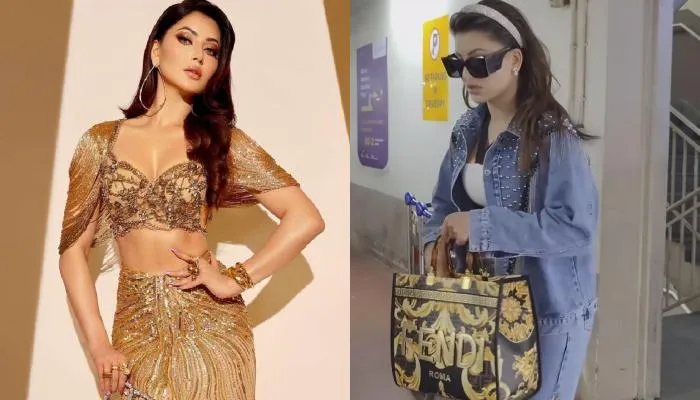 However, what truly caught the attention of onlookers and fashion enthusiasts was the luxurious accessory Urvashi carried with her - a Fendi x Versace Gold Baroque & FF Motif Fendace Sunshine Tote Bag. This stunning tote bag not only added a touch of elegance to her outfit but also demonstrated her flair for high-end fashion. The eye-catching tote bag comes with a hefty price tag, reportedly worth Rs 5 Lakhs, making it a statement piece in Urvashi's airport look.
Urvashi Rautela's ability to effortlessly blend high fashion with casual airport attire once again proves that she is a style icon to be reckoned with. Her choice of the daring denim look, combined with the exquisite Fendi x Versace tote bag, showcased her keen fashion sense and her penchant for making a statement in every appearance
Urvashi posed happily for the paparazzi with all smiles and love. As Urvashi Rautela continues to turn heads with her fashion choices, fans, and fashion enthusiasts can't wait to see what other stylish surprises she has in store for them in the future.
 

View this post on Instagram

 
Read Also: